Getting yourself busy enough with the online working that you forgot some important work. This happens to all of us, as we all get busy working online and forgets about some really-really important task.
What Happens
Chatting with a client or updating a blog post and forgetting about the other client who is waiting for your somewhere or you have a appointment with your doctor but forgets because of your busy life.
How to Remember
To recall the stuff that's most important to you, usually you make diary notes of the work that you want to complete but in this cyber space you forgets about everything, when it comes to serious working.
Some will say that they usually go for the sticky notes on their desk of their front wall to remember. But just imagine if you have 4-5 works then how your environment be look like just full of sticky notes. Isn't it!
Simply and Effective Way
Now you can get a simple solution to remember and yet the sticky notes way, you can get a software tool to do all the sticky notes for yourself on your computer desk and it just serve as normal sticky notes.
FreeNote is a freeware application that lets you place virtual sticky notes around your desktop. FreeNote lets you create a number of virtual sticky notes around your PC screen.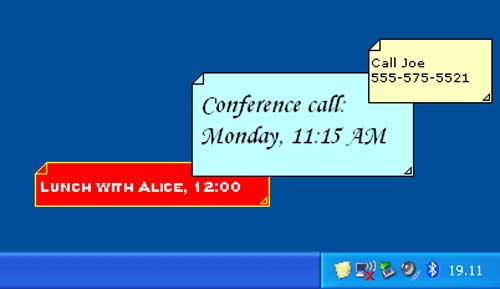 You can personalize each note as the way you want to with the size the color the text font text color all can be customized.
More to this
This I think is a perfect way to remember your things you want to do and this tool is much-much effective for the webmasters.
This application is really simple to use only 873KB to download and not takes much of your space only a icon on the status bar will be displayed clicking that will activate them and also for the modifications.
Also this is a multilingual tool and can serve you in many languages. You can read the full structure for installation here.
To go ahead and download FreeNote Software Tool Click here
I am sure about this that you will like it and it will be so very useful for you to remember things.