Most of the bloggers or webmasters who run on their own websites/blogs are actually working from home. Working from home is awesome, no boss on your head no targets to achieve for incentives.
But its some time boring to work from home because after all we are all social animals and love being socializing. As socializing has its own benefits to share knowledge or make new friends just hang out your feelings, this can probably be used as a business tool also.
Keeping this in mind some webmasters/bloggers go to coffeehouse. But coffeehouse comes with own challenges as over caffeination, no place to make phone calls without being a jerk. Nowhere to meet with clients. You have to buy lunch.
This is the only reason that co-working spaces are being popular for the working at home industry people.
You get your own desk to work with other co-workers, you and your friend shares the same desk, so you can easily enjoy your work. No problem of calling as a phone is provided for the use, you have connectivity to the Internet or Wi-Fi. Most of all you have a conference room where you can actually call and discuss your clients in a professional manner.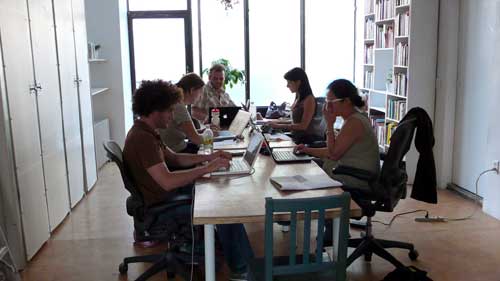 The space is shared so the rent is also, therefore is not an overburden on anybody and at the same time you can be with many other people of the same field. Like for example, if you are web-designer, so copyrighters or seo people in your co-working space can really help you in you work and also you can be of their help too.
So, if you are a group of friends or professional and are really bored working from home because of non-socializing factor than the best option for you is to go for a co-working space.
You can easily search for these co-working spaces in Google or other office space providing sites and compare the rate and facilities you want. On the other hand as I have written about that being a group you can also develop your own co-working space, according to your needs.
If you are thinking of developing your own co-working space than you can also see that it has all the facilities that are at par with home, such as shower, books and a TV room etc. so that you could not have a feeling that again you are in office.