Excited, thrilled and looking forward to my own idea. This is my very first entry to post free ebook every day.
The Ebook
This is the ebook about directory submission and secrets behind it. Author of this ebook is Manish Mathukiya. He further describes his ebook as:
Free 85 Pages ebook on building links with web directory submissions. Build links legitimately by submitting your website to quality and SEO Friendly directories. Directories submission is best way to improve link popularity and search engine rankings.
More he adds to this; I'm 100% confident in saying that this course is more comprehensive than "almost" all of the paid courses on the market. You'll be very hard pressed to find this kind of high quality information being given away anywhere.
Download Free
I will not say anything more about the ebook. As it is available for free, so I don't think any one would mind clicking and downloading it. Further you don't have to signup to anything for download. It's a direct download link.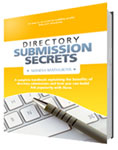 You Can Download This Ebook by Clicking here
I thank Manish for submitting his ebook and believe that my blog users will be get some knowledge out of it.
Once again, if you also want to list your ebooks on my blog then kindly email me at info[at]infogle.com with subject "Submit Ebook" also with a short description, download link, and cover image of book.
As this is my very first entry so i would also like to get a line of comment from the users who download this ebook.