I recently have opened moneybookers account but like paypal it isn't showed unverified at any place, like in paypal you are shown unverified on the front page of your account. So, I was not sure how to deal with it. After reading some stuff available in the account of moneybookers I understood how to do it.
How to Verify
Unlike paypal if you want to verify your moneybookers account you don't need to have credit card you can well do it with the bank account you have and for the address verification they do have the provision they send you the verification code to your mentioned postal address and you can write that code to verify the address.
It is not like that they don't do credit card verification all the above-mentioned tasks would not be necessary if you do it with your credit card.
Easy Way to Go with Bank Verification
As in other similar payment processors you are charged for doing a verification from your credit card but in moneybookers you are paid for doing so, yes its true! You are paid for verification. The method is that you have to press the withdraw button and enter your bank "swift code" and then your bank account number and then you can withdraw some amount say $20.
Now, when the money reaches you bank account, in the transaction summary of the moneybookers slip, you get a 6-digit alphanumeric code, which you can use to verify your bank account. It's very simple to do and it can be done with 3-4 working days.
Verification for Once
I was impressed by the way moneybookers wrote in the account that they do verification for once, and you are never ever asked for other verification methods or re-submission of verification documents.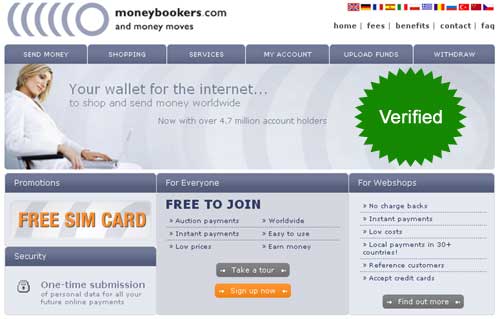 Don't Know The Issue
Despite the benefits of easy verification I can't figure out why the moneybookers is not so popular among users.
Also, I forgot to mention that their customer care has fast response time and they solve the query with pinpoint accuracy. I think if you have not opened a moneybookers account you should give a try to it. Verified