This is the nicest of Facebook Apps that I have ever seen. It does the work for you and you need to just click.
Not for all – but for some who regularly hunt for new ideas and pitchy lines for their facebook status.
Facebook Status Shooter
The name itself suggests that it will shoot/update your facebook status. As this facebook app has around 40,000 statuses.
With one click it gets installed on facebook and when you are falling short of some pitchy lines – just open this app and get the exciting status update for your facebook profile.
Also, this facebook app has different categories – where you can easily choose the topic, which you like and want to update your status.
More
This facebook app does so that people can comment on your status updates and increase your profile hits. As people become more interested to what you say and what your next status is – it will surely increase the traffic to other areas as well – which is your site.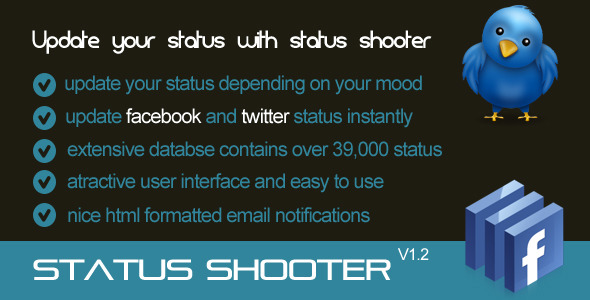 For people interested in purchasing this app – can also buy – this app is for sale at $8. This app does support the advertisement feature – where you can easily make money.