Just wanted to share something I have just found while I was doing a general surfing. We have all seen myspace, facebook and always wanted to have one.
But due to the complex nature of the script and the cost to get it coded its always shatters a Webmaster for starting a new social networking site.
There are some scripts available but they come with a cost and I as a webmaster can easily understand webmaster minds that all of webmasters wanted things for free to get started first and then invest in to reap some money out.
So, here is what you can start with and obviously with no restriction. The script is available for free and you can start the community services like: Myspace or Facebook.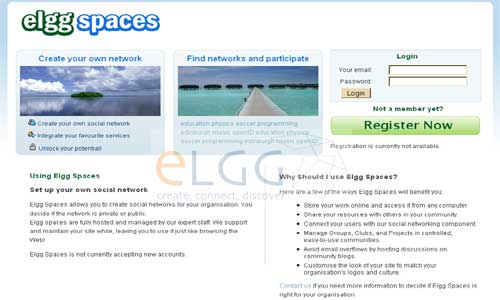 About Script
It's called "Elgg" and with this free source you can start your very own community websites. This script even comes with the variety of mods/plugins to enhance the features, so you can shape it, as you like.
Features
The free source nature of the script has not stopped it to include some of the finest features; this includes the blogging, Full RSS support, and File repositories for individuals and communities, Podcast support, Multilingual and OpenID support. This is though not full feature list.
Need For This
This is best for the organizations those are much concerned about their data but hence would like the power of social networking. For individuals who want to start their personal network or any specific network depended on a niche.
Download this Free Script: Click Here