Now you make money with Ebay, and that also in not the new fashion. Have you heard about the ebay storefronts? The script which you can install on your website and subscribe to the ebay affiliate program. This script will start crawling the ebay products to your website. People will see the price the current bid the image of the product and all that and you can choose the niche you want to target.
You must have been using or some of your friends but they must have bought the script that crawls the ebay products to their storefronts. The product I am going to highlight now does the same thing for FREE.
McJiffy
McJiffy Easy is an open source project for quickly creating dynamic storefronts for the eBay affiliate program. Sites made with Easy can either be used as stand alone websites or included within an existing website.
McJiffy Easy Main Features:
Lists current auctions on eBay based on keyword searches
Dynamically pulls popular keyword lists from eBay servers
Multi-site hosting from one code base
Easily skinned by using custom templates
Automatically cloaks outgoing links
Money
You can make money by selling either the ebay products through your storefronts or by placing the adsense on the storefront. This script also has a provision for placing ads in to your storefronts.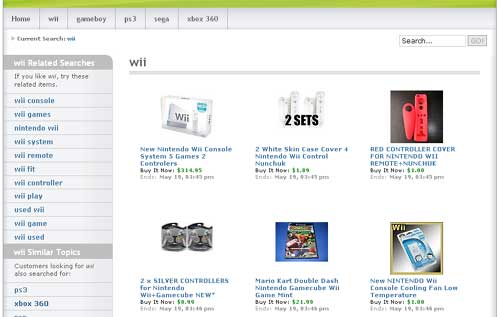 More to Know
For installing this open source script you just need to have PHP5 with curl enabled, mod_rewrite enabled. Another obvious need is to have ebay affiliate account or ebay developer program account.
Here is the Demo that you can see how things work and here you can Download this free script and start making profit. If you need some additional help you can visit the Help Forums.
You can install this script independently or you can install this section on any inner section of your site. I would recommend for all the bloggers who are into any kind of product blogging to install this script, as it would give you decent profits.