Hacking of wordpress blogs and sites are increasing and experts view is – hackers get in to the site through some plugin – which has some bug. Though nothing is much clear – but it is always advisable to keep the plugins and wordpress version updated, so as to protect wordpress site from any hacking.
But in worst-case scenario if still your wordpress site gets hacked then what is the solution – first of all don't panic. Hacker has not actually hacked your complete website – but has modified the default page.
Hackers Do
Wordpress hackers don't always try to get in to the wordpress database – they do the page hacks – by modifying the default index page with their text – which looks like it is hacked.
What to Do When Hacked
If you do witness something like this – just relax and go to the wordpress admin and click on upgrade – (If, you have latest wordpress version installed – then also) click "Re-Install Now"
By reinstalling wordpress, it will overwrite the default files and will automatically erase the hacker's code and your wordpress site will be back online.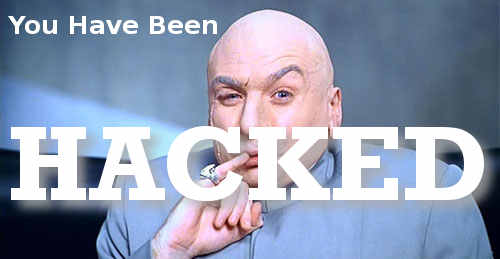 More
This method does not affect the template structure – Your wordpress website will still have previously installed wordpress template. It is one of the easiest method to get rid of hackers code from your wordpress website.