It's a very tiring job to search for the most accredited affiliate program to which you can promote via various sources to earn money. If you look at any of the affiliate networks – CJ etc – You could easily spend a day or two to finally shortlist the kinds of offers you would like to promote.
Also, you are not sure about the offer you are promoting – kind of company you are promoting. With less authority networks it can be hell to have your affiliate payout – even if you have made sales.
Now, You can easily make $30 per sale. Without thinking of any trouble in your affiliate program. As the $30 payout is from Infogle. The website which has been online for more than 7-years now.
About Promoting and Program
We have a new section made – Wah.Infogle.com – i.e. Work at home Edition. This section provides the exclusive access to the work at home resources.
You are not restricted of any thing – With Work at Home Infogle you are bound to make money irrespective to your living location.
You are paid monthly as per your sales – we don't have any minimum amount to get paid. You do the sale – you get paid – it's as simple as that.
Incentive
We always like to give more. Therefore, for the affiliate who makes more sales is given incentive – if you do more than 10sales per month you will be given $50 bonus.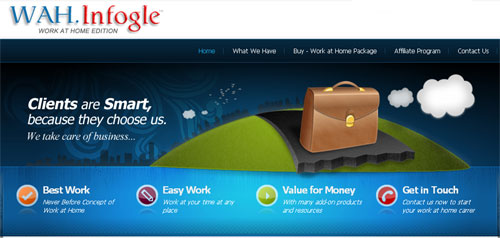 Kind of Promotion
You are free to use any kind of promotion you like – we do not have any restrictions on anything.
More
You are bound to make money with this offer – Our team is online 24×7 so you can easily contact them for any of your queries – we also assist your users and make the sale happen.