Collaborating has become so famous these days due to the flexibility of the data one has to carry. We all know data is precious and can't risk of taking along with all the times and also risks about been corrupt.
So, the solution is to have a collaborating network and just connect to the network and exchange your data with other permitted users within network. Now there is program which can also helps you in making money with this kind of programs.
About Offer
HyperOffice is the collaborate network which helps you exchange the critical information within your permitted network of users. You don't have to carry anything anywhere. If you have Internet access you can share the data. The best part is that most of the similar kinds of companies offer the same product but you have to install a piece of software to get it working.
No hassles with HyperOffice you never have to download any piece of software or tool to get it working.
Program Highlights
Below are some highlights to the program:
Integrated Suite: Complete set of tools to create a thriving virtual collaboration space.
Document Collaboration: Store documents online, collaborate on them with remote teams.
Shared Projects: Set up projects, assign responsibilities, & track progress – all visually!
Shared Contacts: Your own Global Address Book. Create contact lists to share with others
Publish Intranets & Extranets: Publish customized & branded intranets, extranets and customer portals. Create entire websites!
Business Email: Set up "employees@yourcompany.com" instantly
Make Money
HyperOffice is giving out an extremely affiliate friendly commission system. Which I probably think is very easy to promote since if shapes well.
You will get $5 for the free trail signup that you brought in to HyperOffice via your affiliate link. Let me make this clearer you don't have to give your credit card number also. So, true free offer.
Also, if you draw some sales to the HyperOffice with your affiliate links then you will get $100 for this.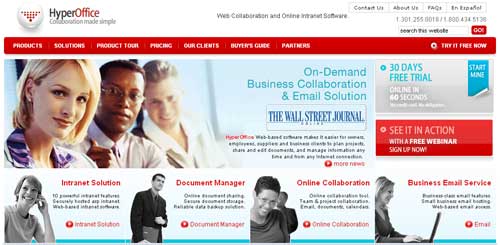 More
The program is available in CJ in the "Web Tools" category. You just have to hit "apply to program" to subscribe. Very easy and rich feature program to promote and get some healthy money out of it.
If you still have any confusion related to promotion of this program. Don't hesitate to contact me via contact form or by posting comment on this post. I would be happy to help.