We have actually entered the new era of affiliate marketing and that is what the PayPerCall is all about. Previously we were staggering into online web space for marketing the affiliate program but the new phase of affiliate program let you work not only online – on your website but on various other ways online and offline.
New Phase
CJ has recently launched a new phase of affiliate marketing – which is called PayPerCall. This is again a platform where advertiser and affiliate meets and CJ acts as third party for tracking purpose.
How PayPerCall Work
As I said this is the new phase and this is the new kind of marketing which affiliates can do in order to earn the affiliate cut. This is rather simple also – you simply have to advertise the advertiser's product as you have been doing but the difference would be that there would not be any thing related to click for getting a sale ration.
The advertisement will feature of advertiser product and the phone number to call – if person is interested in the product and wants more information on product or wants some more information or assistance they need to call the number given on the advertisement.
If they call and talk to them – then you will get paid – but the other things that rules this procedure is the kind of offer – whether the advertiser has kept on lead basis or sale basis.
On the other hand this gives you freedom of marketing it online or offline or any other online media, which you feels is okay for you.
Now when the user makes the call to the given number in the advertisement – this is where CJ comes in and track the call for you according to the affiliate. Below is the depiction of how things work in this.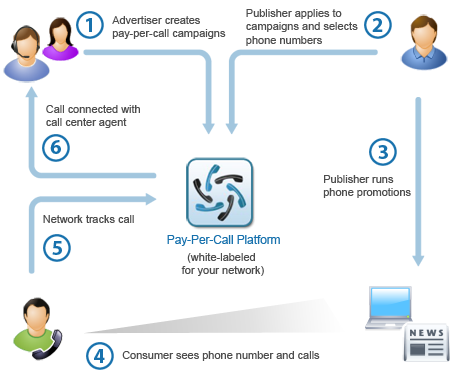 Earning and Application
If you are excited enough after reading all this and you are not in US then hold on to your excitement as this offer is only for US Affiliates. Other countries will be included soon but not scope for others at least for now.
Conclude
I will give it thumps up as this is what something which can be worked by an internet person or any other person which is not related to internet so much; hence, giving nice scope for earning for all persons.