Moneybookers is updating itself – not in terms of service but in terms of designing and branding. I do hope this step will refresh the moneybookers as a brand and give a new life to one of the excellent online payment gateway.
I personally believe that moneybookers is one of the easiest of payment gateways with less formalities and less technicalities.
Refreshment Was Due
The new design of moneybookers looks more soothing and refreshing. The new brand name which moneybookers is opting for is "Skrill".
As informed by moneybookers, they are just changing their branding and design – rest all features will be as it is. Though you will see some design changes happening from this right moment – but for the time being moneybookers will continue on their moneybookers.com url – they will shift their complete operations to new url in summer 2012.
The new URL of moneybookers will be www.Skrill.com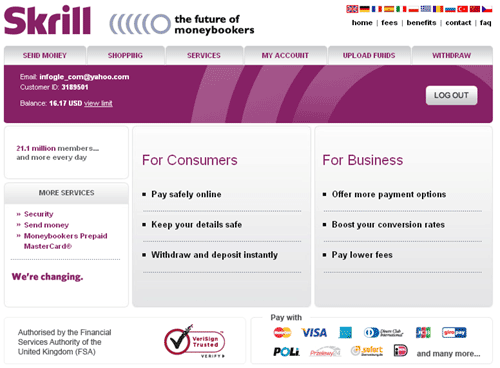 As we found
You must have this question in your mind that what is the meaning of the word "Skrill". As per our research we found that word – "Skrill" has evolved from the word "Skrilla" – a slang word, basically used for: Money
More
Moneybookers will have their brand new facebook fan page- their new twitter account with their new branding "Skrill". Looking forward to the new future of moneybookers.