I know you have been waiting to know the name of the person who actually cheated me with only $200 of money. I am not disclosing the name of the person because I was cheated, that is not the only reason. I think it's my social responsibility to tell you what this person is up to so that no one else could just land in the scam of this person.
First make your minds the truth I am going to speak is 100% backed by proof and have records of all the things I am going to write. Even I am thinking to add some proofs in this post so that all could come to know and beware of this person.
The name of the person is Sushant Tiwari he is 42-years-old male as said by him, staying in Indore MP India. He owns a company called dreamwever.com it's a hosting company, also he book domains. For a hilarious look just see the about us section of his website.
This Sushant Tiwari is only up to money. My client's website was hosted on with his server. He took the money just a month back and hosted the website. After getting the account clients was not at all satisfied with the results, as the server becomes slow very frequently and also remains down. So, I requested him for the refund, he send me the paypal screenshot that he don't have any money in his paypal.
But on 7th May morning I received a call from my client and he said server is not working. I tried to contact Sushant but he did not responded. Just then he came online on messenger. I contacted him on chat; he said the problem would be solved within hours. I relaxed and passed the same to my client.
At that time I did not thought the hour he is mentioning would never come in this life span. I realized this after two days when he did not picked my phone calls not responded on messenger.
Believe me people if you want to learn about honest scam then he is the best teacher, he can teach you how you can yourself do an honest scam.
Not only this, he cheated me for one windows account also which I took in January 2008. He has shut down all the accounts and not renewed.
Also, another scam was done with me for $17, which he never returned. He took this money for renewal of a hosting account. Just see the image below of chat I had at the time of renewal. Just the next second after receiving the money he told me to shift the site to another server because he is going to shut down this server. I was shocked.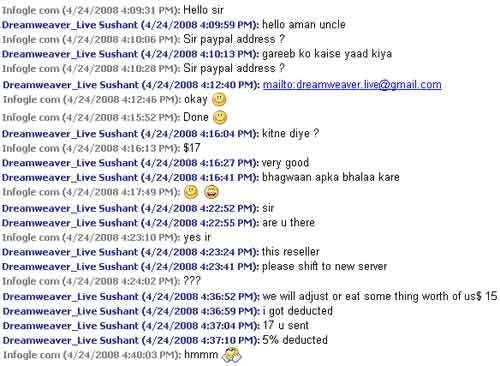 There is a huge list of clients who he has scammed and you can yourself see this thread:
Proof 1: Click Here
Proof 2: Click Here
Not many people posted in this thread as they are actually contacting the local police or cyber crime department for this. And most of us have already contacted the cyber crime cell.
He is still operating his business site and has no fear from cyber crime or police. Lets see what can be done. I will soon contact the local media and print-media people to kindly report them, so he gets the instant publicity. Isn't it!
If you are the victim or want to support this operation kindly do post your support in comment. It will boost the energy of many victims.