How much time do you spend on Internet? And what do you actually search on internet? Please don't mind I am not asking about you to give me a survey for all these things.
I am just trying to relate to something. Lets go this way. Which email address you have if I talk in terms of free email address? Yahoo or Gmail or Msn or Aol some may also have rediff. All are reputable companies in the field.
If you are really net savvy person then you might notice to some of the changes occurred recently on Yahoo's homepage. I describe it as:
There is new hill formed and don't guess the place because its not on the mother earth but on the Internet and that's also on yahoo. This was the first expression when I saw the Yahoo's new homepage design look at the image below: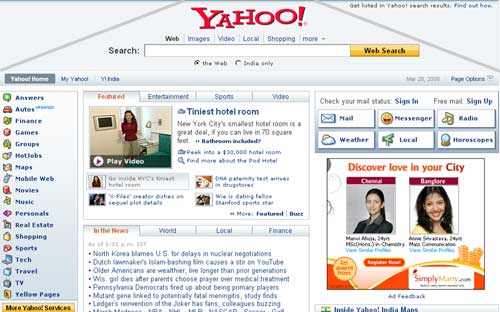 I can't figure out what was wrong with the previous page, as it was able to capture most of the space and in the current layout you can see the space is header.
What do you say, what can we do, nothing but just commenting the situation as being a blogger.