When I say bloggers should keep thinking new kinds of topic and content and keeping adding to their blogs in order to attract users. On the contrary people who believe in spam are also thinking some nice ways and not just the nicest way but also the one, which you might have not witnessed before.
The new kind of spam is so strong that you cannot track down that you are opening a spam in your inbox. The promotion technique is also unique and these spammers must be having a high conversation ratio. Just see the screenshot below of the email I have received.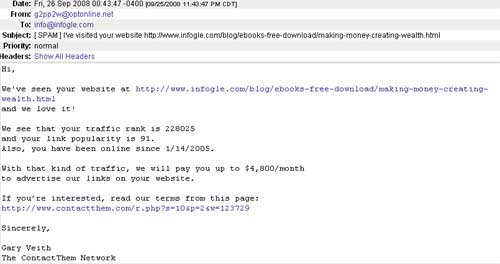 Now, you will say where is the spam, spam is what you say and you not deliver it or giving a false promise to the user. This is what this email is up to. Content is promising me an advertisement revenue $4800 per month.
But the truth is that you have to deliver the sales to make the income and everything, which the email promises is not true and they are trying to emboss content.
Just see the style of writing they write all information about the website and its not all they try to give the precise URL of the website in order to set people to believe them. If you have received any such email do tell me and what was your reaction when you saw the email and what did you do?