New search engine launched but have any one really accessed about the search results appearing on the new search engine. I am talking about Cuil.com a new search engine, which promises it has double the web pages in the index as compare to Google.
Cuil The Search
Previously it was Cuill.com. Cuil claims it has more than 120 billion web pages indexed. The appearance is quite simple. There are no channels for different searches. For example, Cuil does not have image search, video search, news search etc. The only search that cuil has is web search.
When I first checked the search engine it does not looked very pampered. After searching through cuil I finally got the idea how a mismanagement of search index can taken you to higher altitude that where you claim you have more than 120billion web pages indexed.
The foolish thing about the search is they are just indexing whatever is on Internet and they are not actually linking to the quality or availability. When I write about availability I am pertaining to that they are including web pages in the index, which are no longer available on World Wide Web.
I have search for my word "Infogle" and results were shocking as they have indexed my pages which I deleted almost 8-months back. I don't know how they figured out and how they have managed to actually link to the pages which were deleted 8-months back.
Also in Question
Just try some searches on cuil and you will be presented with a search result and with some thumbnail images of them. I still have not figured out what is the sense of giving thumbnail images in the search results, which are not practically from the server the result is linking too.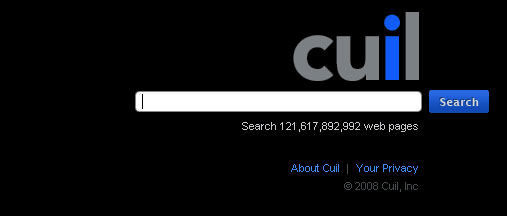 Looking at the management there are some ex-Google employees in the team haven't they figured out this and what is the sense of making just a web search and not other searches.
I could only say a lot to improve and a lot to expand before they could finally expect some real good traffic to the website.