There has been a new buzz around and giving out good rates on the ads been displayed on the websites/blogs.
Axill network is the fastest growing publisher network and providing a complete solution for the publisher to earn huge revenues from their website/blogs. They are giving out some of the very nicest features ever given in the advertising industry and most of to the publisher.
Axill network
Axill is working dedicatedly in three countries with three different websites that matches the local publisher needs and because of this they can serve you better.
In the axill network there consist of three websites:
1. Axill.com – working for US based publishers.
2. Axill.co.uk – working for UK based publishers.
3. Axill.in – working for India based publishers.
The need I felt for they having three website for three different regions is to serve better because serving a local publisher is easy in terms of payouts, communication and also in understanding the needs.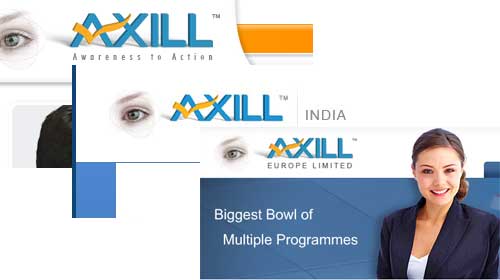 Benefits to the publishers
Axill network has a vast scale that could easily cater all kinds of publishers. Whether you are a PPC, CPA, or CPM. Axill provides fairly good CPM rates according to the countries they operate.
UK and US
The most exciting feature is the publishers of the US and UK can get paid Daily Payouts. Yes you are reading it right, they are providing daily payouts and for this they have arranged VISA cards to the publishers who want to get daily payouts, subject to a minimum of $25.
As far as CPM is concerned they provide 15 days payment via Money Bookers.
India
For Indian publishers they are providing very fair rates as far as Indian advertising industry is concerned. CPM is available for India too and all other CPA and PPC too. For Indian publishers get paid by check on a 30-day basis.
But daily payout is still not available for Indian publishers.
CPM Assurance
Axill also assures you on the CPM quality that they will provide clean and clear CPM impressions and there will be no abuse stuff allowed.
E-Branding Solutions
"Strips by Axill" is an innovative idea of using potential inventory by helping you (the publisher) convert it into smart inventory. Axill buys the inventory in your website and the ads then served matches to your content.
What is Different in E-Branding or Strips Method
The difference is I don't think you have ever witnessed this in any publisher program. Actually you work as an affiliate for programs and you don't know when you will exactly get your payment amount and also there are possibilities or fraud orders, which hence charge back your commissions.
But with Axill you don't have to worry about all this. Axill will pay you UPFRONT for the inventory they have purchased, so you will get money before you actually starts your campaign.
To Conclude
Axill has local office address in all the countries i.e., UK, US and India. Therefore, if you like to have a personal consultation with the kind of advertisements or for any inventory you can have one-one discussions with axill specialists. Dedication of the company directs the future and with axill you can be rest assured.