We all in the cyber world are attached to some hosting or domain service provider for our business. There are great packages too for everyone in domain and hosting. We think that we all get some of the best deals ever.
Now, as you know there are many deals available and a varied range of prices for the domain registration.
I was normally surfing the web and found this amazing offer for domain registration and I really wanted to benefit my blog users from it. The offer is as genuine as anything in the world and this is no-black hat method. Its 100% from the website itself and you are not doing any wrong way to get your share.
About Offer
As per the heading of the post, you get to register the domain of your choice and that's also 100% free no questions asked. This offer is not combined with any other, like you don't have to purchase any thing to get this offer.
You know about Register.com the offer is from them only and Register.com is one of the most trusted brands in the online world.
How to Get this Offer
You don't have to worry about anything anymore. Just visit this link and register your choice domain for free, but let me explain some more, the free offer domain is only limited to one per account.
The domain extensions available are .com, .org, .net, .biz, .us, and .info.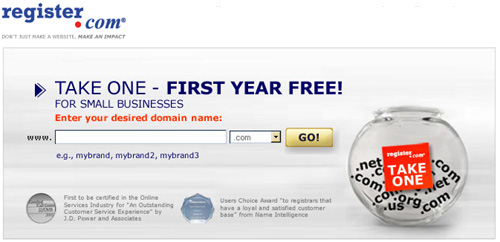 More
I don't know exactly for how much time this offer will be available so just grab it. The only thing you have to do is submit your credit card. They need credit card to verify the account that's it nothing will be charged. Just try to complete the offer and see that in your shopping cart there will be nothing pending to be paid.
Also, just let me know if you really got benefit from this offer. Just leave a comment if you did or not if you didn't make. It will probably help others to know some extra info about the offer.