Hosting has been so competitive these days. The new offers and new websites coming every day, No! Every hour. So for the real customer it has been tough decision to actually know about the real hosting companies.
Fraud from hosting companies are very common these days and even you are not secured with the leaders in hosting as I have read some reviews about them in forums that they disable or ban your account suddenly and you never get to know what was wrong with your site.
Good Offers from Infogle Hosting
We have recently modified the hosting plans in Infogle hosting too as to give more freedom to the users who actually want to get a kick-start with their websites or want to start a hosting resell business. We have solutions for all the needs.
You will get Cpanel v11 with WHM and all the latest PHP and Mysql version with the most easy to use application installer Fantastico.
Plans Modified
As I said we have modified hosting plans and introduced some industry friendly and user friendly plans too. Also we have minimized the hosting plans to mainly in three categories.
Shared accounts you can get 5000MB space for just $10 yearly
Multi website hosting with one Cpanel you get 500GB space for $3.99 monthly
Our famous Unlimited Space plan for resellers you get for $5.99 monthly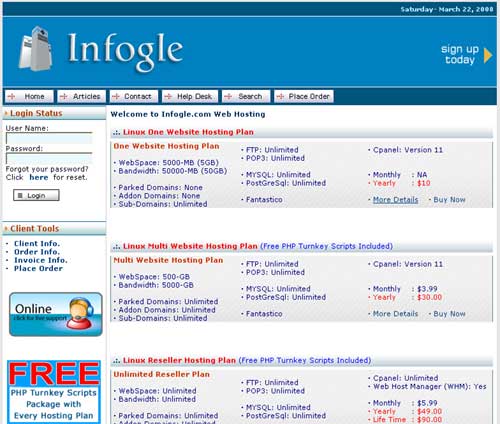 Free Add-ons
Now when you are with Infogle you don't have to worry about the stuff you are getting, be rest assured that you are getting the best of the products. As just a promotion we have also combined the hosting with free PHP scripts pack.
Therefore, you take the hosting plan with us you are sure to get free scripts pack these are the turnkey website scripts.
Instant Supports
It's most with support as this is the best outline where your customer gets a reflection of your hosting. We have worked with our online support and you can now see the online chat help on the hosting section for the general queries and for the advance queries you can submit a support ticket and all support tickets are answered with a time frame of 2-working hours.
At Last
You can very well check with a third party monitoring service Infogle Hosting has achieved more than 99.97% uptime. We at Infogle Hosting are committed in providing the best of the source for hosting.