Overview Of Business Model
The number of seniors who are online is increasing every day. Many retired seniors spend hours on the Internet daily—learning, doing research, purchasing products, and planning the rest of their retirement. This provides you with an excellent opportunity to capitalize on this trend. You can launch a senior services Web site where senior citizens can learn about health, eating, fitness, travel, literature, money, entertainment, and many other things that are of interest to senior citizens.
How does this business generate revenue? You can generate revenue from selling online advertising. The senior citizen market is quite appealing to many businesses; this can provide a key advertising opportunity for businesses whose products and services would be of interest to seniors. You could sell advertisements for different vitamins and health products, or you could sell advertisements promoting senior trips to Las Vegas. There are many advertising opportunities for this type of site. You could also generate revenue by participating in the affiliate programs of companies providing goods and services of interest to seniors.
Skills Needed
Knowledge of online advertising techniques would be a benefit if you are operating this type of business. You can't promote to a specific market segment unless you understand that segment; therefore, you should have knowledge of different interests of senior citizens.
Cost To Start This Business
Initially you will have to pay for the development, design, and hosting of your Web site, computer hardware, computer software, a scanner, and a printer. If you plan to set up a mailing list, you will also have to purchase mailing list software to help you organize and maintain it. It would probably be in your best interest to purchase comprehensive Web traffic analysis software to track where your Web site visitors are coming from. This information can be great for future marketing opportunities. Other costs that you will incur are related to the promotion of your Web site. Estimated cost is $4,000 to $10,000 to start.
Number Of Employees Needed To Start
This business could be started by one individual on a part-time basis. To take this to the next level, you will want one or two full-time employees. One person will be responsible for the daily promotion of your Web site online. The other employee will handle advertising sales, accounting, and all administrative tasks associated with operating the business.
International Potential
This business has strong international potential. Your services will be of interest to senior citizens all over the world.
Important Business Issues To Be Addressed
Since your main source of revenue is going to be generated from the sale of online advertising, it is very important that you ensure that the server hosting your site has high-speed access. You don't want to have a slow-loading site, because this won't be attractive to advertisers. If it takes a long time to download a page of your site, both visitors and advertisers will be dissatisfied.
You should ensure that your Web site has an attractive interface with consistent navigation throughout your site. Since your advertisers will be posting their ads on your site linking out to their site, you should develop the interface so that the visitor doesn't actually leave your site. What you can do is have your advertiser's site appear in a pop-up window. This enables the visitor to continue to navigate throughout your site without having to click back in his or her browser.
Since your target market is senior citizens, you should remember not to make your Web site design too complex. You should use fonts that are larger than your typical font size. You should also ensure that navigating throughout your site is easy. Any complications may cause a senior citizen to leave your site due to confusion.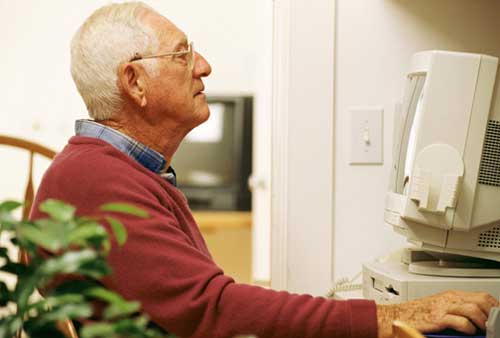 You should update your Web site constantly. Perhaps you could have a What's New page that is continuously updated with recent site additions or information that would be of interest to seniors. You could ask visitors if they would like to be notified via e-mail of any updates that you make to your What's New page. This would be a great way to encourage repeat traffic, and seniors would definitely appreciate hearing from you.
Online Marketing Techniques
Develop a viral marketing strategy where seniors can "Tell a Friend about This Site" via your site. This will spread the word about your site.
Develop as many links as possible from appropriate Web sites, directories, Web rings, and meta-indexes related to your target market. These sites could relate to travel, health and fitness, money, entertainment, growing older, or anything related to senior citizens.
You could hold a weekly or monthly contest on your Web site for a free product offered by one of your advertisers. You could ask people if they would like to be notified of the winner via e-mail. This e-mail will encourage them to return to your site to re-enter your contest, thus reexposing them to your site.
Have a What's New page where visitors can view recent changes to your site and new things that would be of interest to seniors. You could ask people if they would like to be notified of additions to your What's New page via e-mail. This would encourage them to return to your Web site.
Participating in mailing lists related to the interests of senior citizens would be a great way to encourage repeat traffic to your Web site. Remember to include a signature file in all of your messages. This will be your online advertisement for your senior services site.
Develop a sponsored listings campaign to bid on appropriate keyword phrases with the popular search engines.
You could purchase banner advertising on Web sites that are frequented by your target market. Sites related to health and fitness or travel, or sites that target senior citizens, would generate targeted exposure for your business.
Additional Income
You can generate additional revenue by participating in affiliate programs of suppliers of products and services that are of interest to seniors. You can have sponsors of appropriate sections of your Web site or your mail list.